---
When I was younger, I was fascinated with infomercial marketing. Back then (pre-internet), infomercials were a Fastlane, a great way to create asymmetric returns.
As I studied the successful companies in this medium, I discovered their products all had one common denominator:
The product not only had to solve a specific problem, the product had to be visually demonstrable.
In other words, if a person couldn't figure out what the product did within 5 seconds (and the problem it solved), these successful infomercial companies wouldn't even consider your product, no matter how great it was.
The same concept is true today, especially in a swipe-left world where attention spans are fleeting, and distractions are everywhere. A picture or a visual demonstration is worth a thousand words to get your product noticed and above the noise. Or, in our case, a picture is worth a thousand orders. Just look at some of the data…
A picture is worth a 1000 orders.
According to a study by Hubspot, visual content is 40 times more likely to be shared on social media than other types of content.
A study by Skyword found that articles with images receive 94% more views than those without.
According to a study by Buzzsumo, Facebook posts with images receive 2.3 times more engagement than those without.
A survey by BrightLocal found that 60% of consumers are more likely to consider or contact a business when an image appears in local search results.
Another study by Marketing Sherpa found that emails with images have a 42% higher click-through rate than those without.
In 2014, Buffer compared tweets with images to those without. Buffer found that tweets with images received 18% more clicks, 89% more favorites, and 150% more retweets than those without images.
Here's a classic example from True Classic t-shirts, an industry rife with competitors.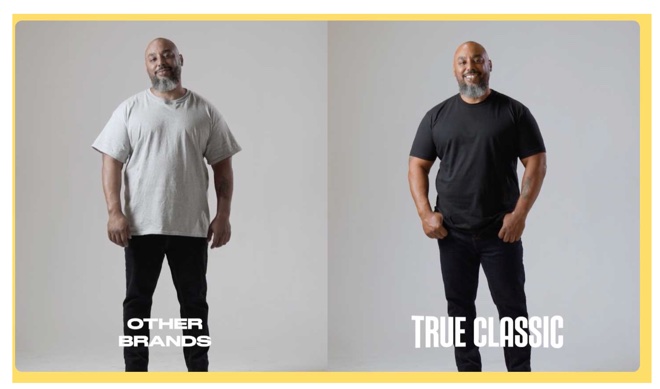 Instead of explaining why True Classic shirts are different (snug arms, roomy midsection), a picture does the heavy lifting.
In fact, as I was writing this article, my wife noticed the above image as she walked by. She asked, "Did that man win a weight loss competition?" After I explained the t-shirt concept, she mentioned that our son always complains about his ill-fitted shirts that hide his physique (he's always at the gym), and this picture stopped my wife in her tracks.
Perhaps the most significant example which demonstrates the power of imagery comes from the multi-billion dollar unicorn, AirBnb.
In the early days, AirBnb struggled with low-quality and unappealing photos of their rental listings. Because the platform relied on user generated photography, these images did not accurately represent the properties or entice potential guests, leading to slow growth.
In 2009, Airbnb's founders decided to invest in professional photography services for their listings. They hired photographers to take high-quality photos of the properties, which greatly improved the platform's overall visual appeal.
According to Airbnb, hosts who opted for professional photography saw a 40% increase in earnings and a 24% increase in bookings compared to those who didn't.
The improved visuals helped establish trust with users and contributed to Airbnb's rapid growth in the following years. It's safe to say that without this "pivot," AirBnb might not be where it is today.
Thinking about going cheap on photos when it comes to selling your home? Don't even think about.
Going cheap on photos when selling your home will get you a cheaper price. Professional photos can yield 100-1000% returns.
A study conducted by Redfin in 2013 found that homes with professional photos sold for an average of $3,400 to $11,200 more relative to their list prices than those with amateur photos. Moreover, homes with professional photos were found to sell faster, with listings that used DSLR photography selling 50% faster and 39% closer to the original listing price than comparable homes without professional photos.
Another study by IMOTO, a real estate photography company, found that listings with professional photos received 118% more online views compared to those with self-taken photos.
In conclusion, here's some actionable questions to ask in your business…
DEMONSTRATE: Is there an image or visual that demonstrates your offer's value skew?
CONCEPT: Is there an image or visual that can replace 1000 words and relay a complex concept?
A SCROLL-STOPPER: Is there an image or visual that can stop someone scrolling in their tracks?
LEARNING CURVE: What imagery can you deploy in your business that will cut the learning curve of your product or service??
Words are weak. Pictures are power.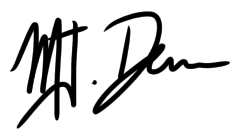 Happy selling!
MJ DeMarco